Interface: Washoe County MCO Dispatch - NDOT District 2 Road Operations Center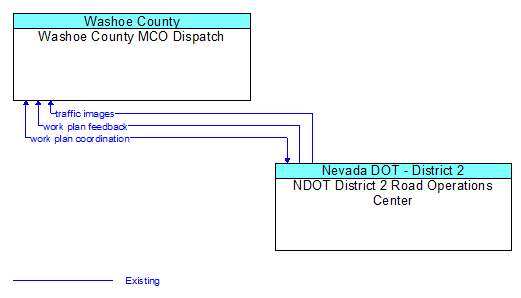 Architecture Flow Definitions
traffic images (Existing) Applicable ITS Standards
High fidelity, real–time traffic images suitable for surveillance monitoring by the operator or for use in machine vision applications. This flow includes the images and meta data that describes the images.
work plan coordination (Existing)
Coordination of work plan schedules and activities between maintenance and construction organizations or systems. This information includes the work plan schedules and comments and suggested changes that are exchanged as work plans are coordinated and finalized.
work plan feedback (Existing) Applicable ITS Standards
Comments and suggested changes to proposed construction and maintenance work schedules and activities. This information influences work plan schedules so that they minimize impact to other system operations and the overall transportation system.