Interface: NDOT District 2 Road Operations Center - TART Dispatch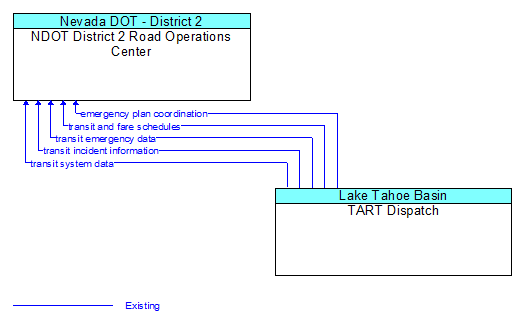 Architecture Flow Definitions
emergency plan coordination (Existing) Applicable ITS Standards
Information that supports coordination of emergency management plans, continuity of operations plans, emergency response and recovery plans, evacuation plans, and other emergency plans between agencies. This includes general plans that are coordinated prior to an incident and shorter duration tactical plans that are prepared during an incident.
transit and fare schedules (Existing) Applicable ITS Standards
Transit service information including routes, schedules, and fare information.
transit emergency data (Existing) Applicable ITS Standards
Initial notification of transit emergency at a transit stop or on transit vehicles and further coordination as additional details become available and the response is coordinated.
transit incident information (Existing) Applicable ITS Standards
Information on transit incidents that impact transit services for public dissemination.
transit system data (Existing) Applicable ITS Standards
Current transit system operations information indicating current transit routes, the level of service on each route, and the progress of individual vehicles along their routes for use in forecasting demand and estimating current transportation network performance.