Interface: NDOT District 2 Road Operations Center - RTC FAST TMC (Southern Nevada)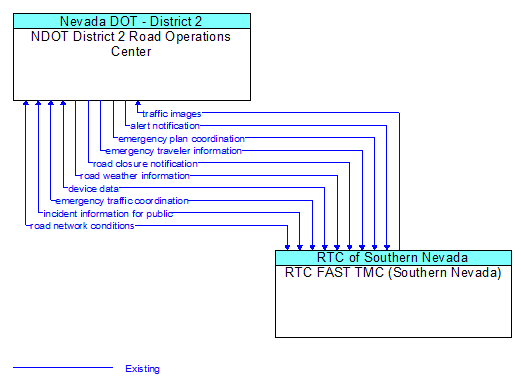 Architecture Flow Definitions
alert notification (Existing) Applicable ITS Standards
Notification of a major emergency such as a natural or man–made disaster, civil emergency, or child abduction for distribution to the public. The flow identifies the alert originator, the nature of the emergency, the geographic area affected by the emergency, the effective time period, and information and instructions necessary for the public to respond to the alert. This flow may also identify specific information that should not be released to the public.
device data (Existing)
Data from detectors, environmental sensor stations, roadside equipment, and traffic control devices, including device inventory information.
emergency plan coordination (Existing) Applicable ITS Standards
Information that supports coordination of emergency management plans, continuity of operations plans, emergency response and recovery plans, evacuation plans, and other emergency plans between agencies. This includes general plans that are coordinated prior to an incident and shorter duration tactical plans that are prepared during an incident.
emergency traffic coordination (Existing)
Coordination supporting disaster response including evacuation and reentry. Includes coordination of special traffic control strategies that support efficient evacuation and reentry while protecting and optimizing movement of response vehicles and other resources responding to the emergency.
emergency traveler information (Existing)
Public notification of an emergency such as a natural or man–made disaster, civil emergency, or child abduction. This flow also includes evacuation information including evacuation instructions, evacuation zones, recommended evacuation times, tailored evacuation routes and destinations, traffic and road conditions along the evacuation routes, traveler services and shelter information, and reentry times and instructions.
incident information for public (Existing) Applicable ITS Standards
Report of current desensitized incident information prepared for public dissemination.
road closure notification (Existing) Applicable ITS Standards
Notification that agency personnel have closed a road due to adverse weather, major incident, or other reason.
road network conditions (Existing) Applicable ITS Standards
Current and forecasted traffic information, road and weather conditions, and other road network status. Either raw data, processed data, or some combination of both may be provided by this flow. Information on diversions and alternate routes, closures, and special traffic restrictions (lane/shoulder use, weight restrictions, width restrictions, HOV requirements) in effect is included.
road weather information (Existing) Applicable ITS Standards
Road conditions and weather information that are made available by road maintenance operations to other transportation system operators.
traffic images (Existing) Applicable ITS Standards
High fidelity, real–time traffic images suitable for surveillance monitoring by the operator or for use in machine vision applications. This flow includes the images and meta data that describes the images.